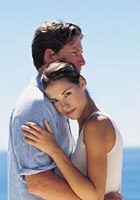 The Process: How Does it Work?

1. Waiver and password. The first step entails providing three pieces of information: 1. Your first name (or chosen username). 2. Gender. 3. E-mail address. After reading and agreeing on the terms and conditions, the system will automatically E-mail you a password to get in.

2. Multiple Choice questions. The first time logging in the program will require you to fill out three pages of multiple choice questions that cover everything from height and weight to personality traits and spiritual preferences. Members are required to answer all of the questions before continuing.

3. Short Answer questions. These essay questions give you a chance to reveal personality and character in your own special way, along with preferences in a mate or friend. Only the first of these questions requires an answer ("How would a friend describe you to a stranger"). We recommend that you take some time and answer these questions in a degree of detail. If lacking sufficient time on the first visit, maybe plan on doing it in the near future. Detailed answers to the essay questions will get more attention from the kind of people you want to meet.

4. You're in! Now you have full access to the system. Search the database of members, send E-mail to others, change your password, modify your profile, upload a photo, participate in Live Chat, discuss weighty issues on the Member Forums, etc.

5. Upload your photo. We find that members with photos get 8 to 10 times as much mail as those without photos. You can upload two photos to go with the profile. Uploading your own digital photo is free, as are all of the other features.